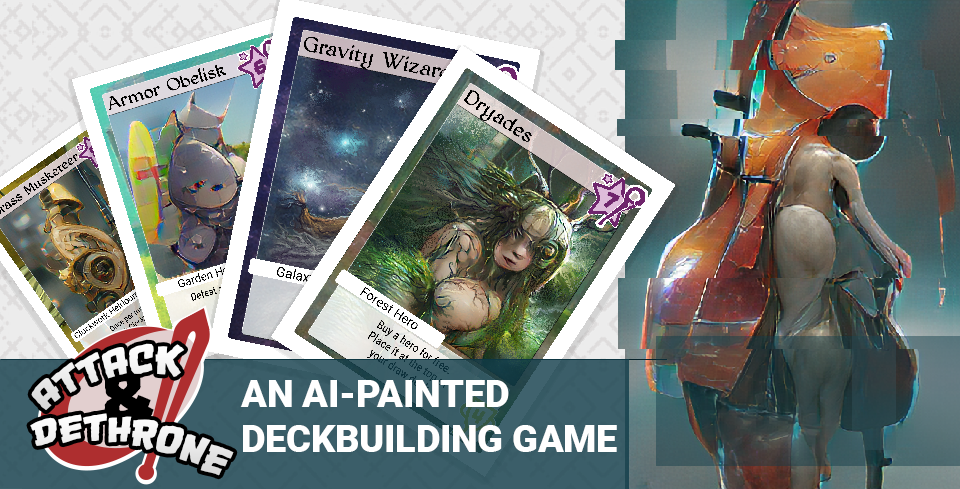 Attack & Dethrone
"

Amazed, jealous, disgusted all at the same time" - @jlipps

Here's a question: if you take a game that you like and re-do the art and rewrite all of the text, is it a different game?

Well, not really, but, like a recipe for beans or the game of Eat Poop You Cat, so long as you change all of the words and also art, it's different enough that you're allowed to sell it. Capitalism ho!

So this is just a print-and-play version of a popular game that I already like, "Ascension: Chronicles of the Godslayer", Ship-of-Theseused until it's a totally different and new thing that is, still, extremely like the original thing.

Replacing all of the art in Ascension is a big project, which is why I made a computer do it for me. All of the art for this project has been generated by VQGAN+CLIP and a beefy little GPU. That's right, a generative adversarial network did most of the work for me. Mostly all I had to do was sort through it and make a few small tweaks here and there. Several days of dedicated Photoshop later and here we are, an entire game.


"How could you possibly charge money for this? It sounds like you copied an existing game, slapped on a bunch of art you made your computer generate for you, and called it a day."

How dare you! That is exactly what I did.




Okay, me and my wife have also touched up a few of the paintings in the set by hand a little bit. But not much. This is 97% pure AI-generated abstract weirdness.

I think it looks really cool.

The game plays a lot like Dominion - it's a deckbuilding game where you mostly get points by fighting Demons.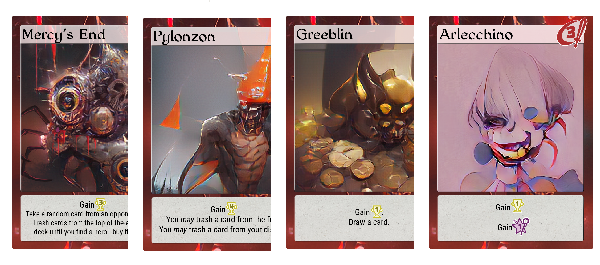 The suits of the original game have been replaced with ones that were a little easier for the AI to wrap its head around. Now we've got Galaxy, Garden, Clockwork, and Forest heroes.

The Galaxy deck is all about direct damage and card-trashing effects.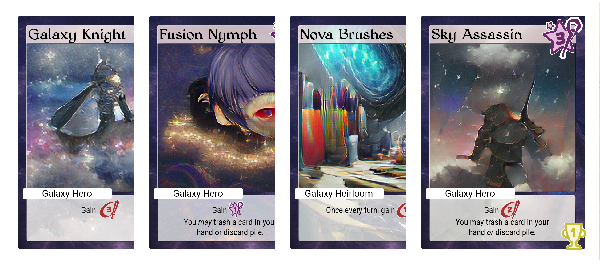 The Garden deck provides a lot of cards that are good at getting you... more cards.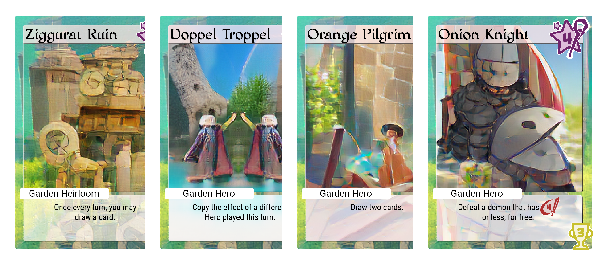 The Clockwork deck works best when played with lots of other cards from the Clockwork deck.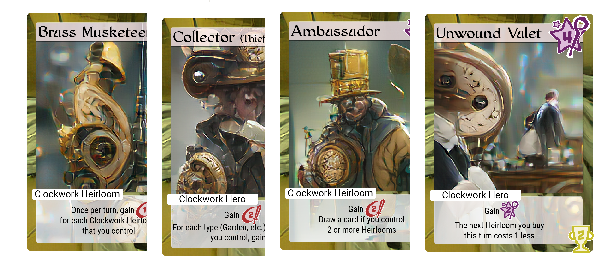 And the Forest deck is full of cards that generate victory points directly, as well as magic for use in purchasing more cards.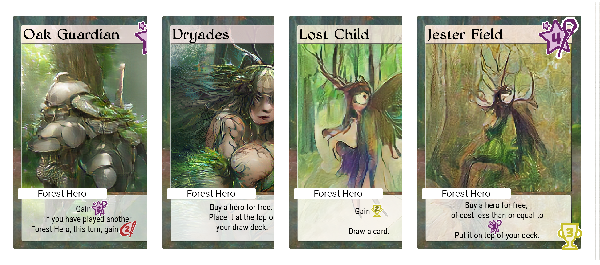 Once I got through the base game, creating a custom expansion seemed really, wildly, bananas easy, so I've also created an expansion for the game with a set of cards that was never seen in the original, The Orchestra Variant, which can replace any of the four original base decks.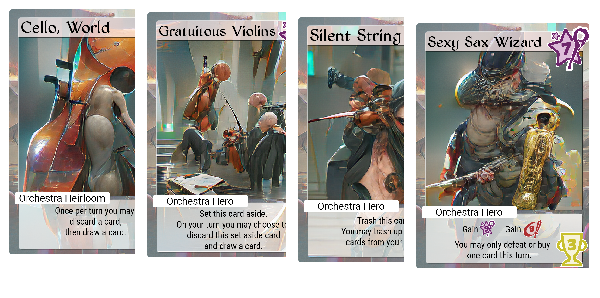 Over the weekend I cracked out The Garbage Deck as quickly as humanly possible. I warn you: it is not playtested at all, and might wildly destabilize your game.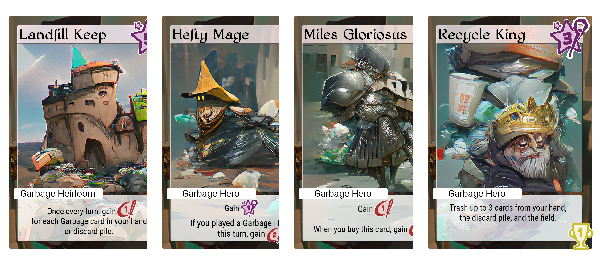 the hefty mage is my favorite card in the whole set
In fact, if you're interested, you can watch the entire process of producing The Garbage Deck, start to finish:

Heck, I've included all of my art and layout files, so you can build your own expansion if you like! (If you do this, please, for the love of god, send me pictures)
Actually if you build this game at ALL please send me pictures. I would love to see this thing actually... in the wild.

You're also welcome to tear this project open and feast on the delicious innards use any of the assets provided in your own games or projects!


This work is licensed under a Creative Commons Attribution 4.0 International License.

Anyways, give me your money! <3 - Curtis

Download
Click download now to get access to the following files:
just-the-pdfs-v4.zip
21 MB
attack-and-dethrone-v4.zip
391 MB